Transitions Adult Day Program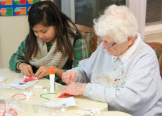 As someone caring for a person with Alzheimer's disease or a related dementia, you certainly deserve our respect and, if our calculations are correct, a break.
At House of Hope Alzheimer's Care, we believe we can help.
Our adult day program, appropriately called "Transitions," was designed with you and your loved one in mind.
For him/her, we offer:
Experienced and caring staff 
Breakfast, lunch and dinner
Tailored activities
Medication management
Access to beautiful, outdoor courtyards
For you, we offer:
Hours of operation from 24 hours per day
Peace of mind
A much needed break from caregiving
For both, we offer:
The cost of the program is $100.00 for up to a 10 hour day. Additional services include an application fee, incontinence care, and 'meals to go.'
We know it's not easy to ask for help, but it is O.K. We understand.  After all, we're all in this together… one transition at a time.
Our impact this year has changed our community!
Miles driven safely in '22